Introduction to Firearms Class
Red Bull Firearms Training
The Introduction to Firearms course is geared for the individual that is new to firearms.  We will familiarize you with different types of handguns, rifles and shotguns.  Come join us for a fun day of learning and shooting!
Each student will have the opportunity to shoot 10 rounds from a revolver, 10 rounds from a semi-automatic handgun, 5 rounds from a bolt-action rifle, 5 rounds from a semi-automatic rifle, 5 rounds from a pump action shotgun and 5 rounds from a semi-automatic shotgun.
Class length is approximately 4-5 hours long consisting of instructor demonstration, hands-on and SHOOTING!
An eagerness to learn and a positive attitude
A snack or sack lunch
Sunscreen if needed
Low - Students will be shooting from a standing position or from a shooting bench
Persons 16 and older may attend this course.  Persons 16-17 must be accompanied by a parent or legal guardian and waiver form must be signed by parent or legal guardian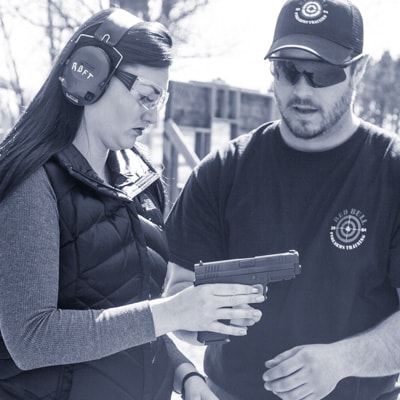 Upcoming Introduction to Firearms Classes
There are no upcoming events.
"THEIR ABILITY TO RELAY REAL LIFE SITUATIONS MADE ME REALIZE WHAT A SERIOUS COMMITMENT THIS WAS.
I WOULD DEFINITELY RECOMMEND THEM TO ALL LEVELS OF STUDENTS!"
- KRIS, Vergas, MN